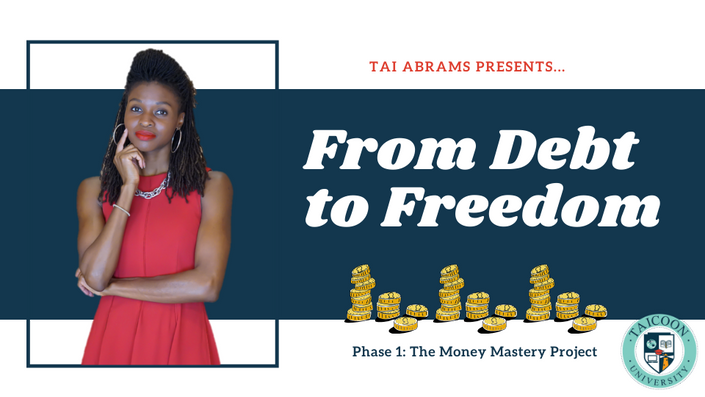 From Debt to Freedom
Learn the tools needed to achieve financial freedom to finally live the life of your dreams
Enroll in Course
SEARCHING FOR A DEBT FREE PROGRAM? WELL, YOU'VE COME TO THE RIGHT PLACE
Are you struggling with loads of debt and are unsure how to escape? Are you tired of getting paid and having all of the money go out to paying other people or companies instead of saving for what matters to you most? Too many people are drowning in bills and debt, due to not knowing how to maximize their financial resources. Debt shouldn't keep you from living the life of your dreams but you have to be proactive to annihilate it once and for all.
What if I told you I can show you how to be debt free by applying practical steps through a structured 30-day program that works? If you are confused and overwhelmed about money and you're ready to start your debt free journey and win, then From Debt to Freedom is perfect for you.
YOUR DEBT FREE PLAN IS ONE CLICK AWAY
It can be really intimidating to be drowning in debt and not fully understand what to prioritize. Should you pay off student loans first or tackle the credit card debt? Is it best to open that retirement account right now or start saving for a house?
From Debt to Freedom is a program that holds your hold while on the journey to financial freedom and it will tell you which steps to take and what order to take them in:
Module 1: You will cultivate the Taicoon mindset for financial freedom
Module 2: You will develop a winning financial plan
Module 3: You will learn how to budget effectively and stick to it
Module 4: You will implement the Taicoon Strategies for rapid debt reduction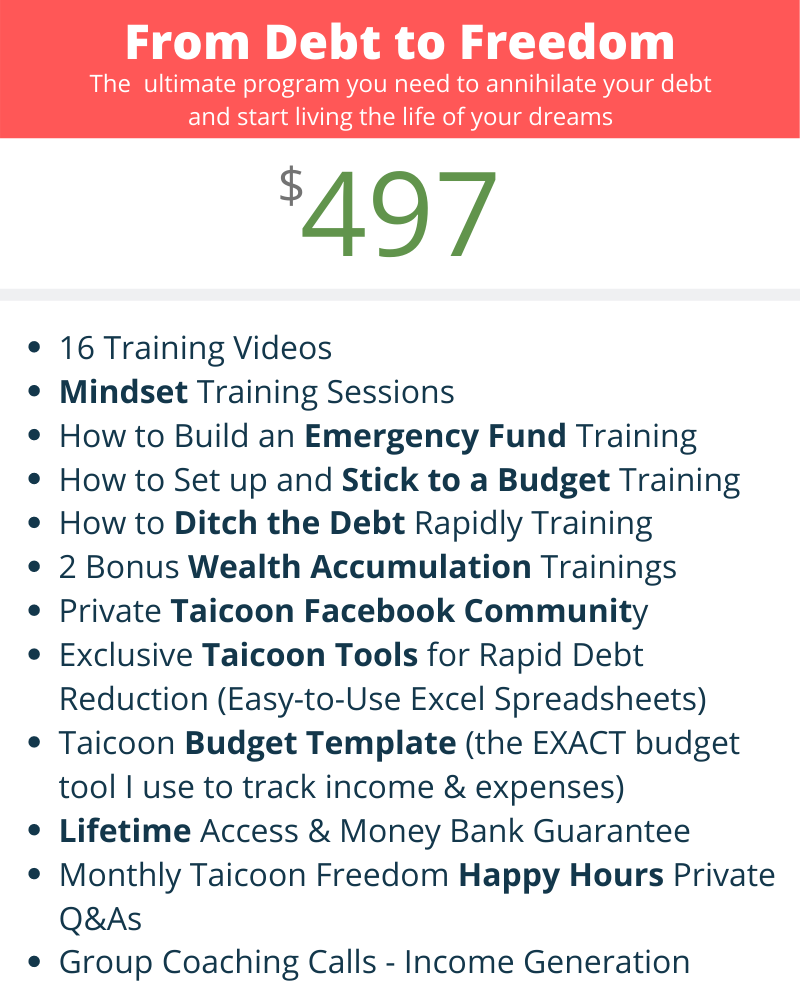 BONUS! Taicoon Freedom Happy Hours Included!
When you enroll in From Debt to Freedom, you get exclusive access to my monthly Taicoon Freedom Happy Hours! Every month, I open up a private virtual happy hour where we can sip a glass of wine (or your beverage of choice) and you get ALL your money questions answered.
This is a LIVE Q&A every month where we discuss things like:
Optimizing your budget
Addressing unexpected expenses
Which debt to tackle first
Getting your partner onboard financially
Who is "From Debt to Freedom" designed for?
Wealth builders at the beginning of their journey who want to be debt free. This debt free program helps you go from fearful to confident with your money.
Wealth builders who have a busy schedule. Each video ranges from 3 to 20 minutes in length.
Wealth builders who are in debt and can't get organized. The online course teaches you to save and gives you permission to spend on what you love.
Wealth builders who want control over their money and are passionate about multigenerational wealth. The course can help you pay off debt so you can put money towards things like a beautiful home, a nice ride and indulging in the things you love most.
Your Instructor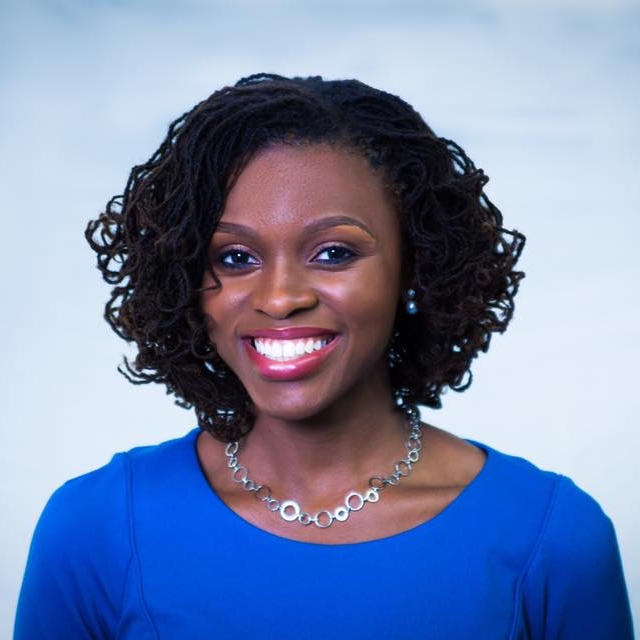 Hi! I'm Tai and I am passionate about building wealth.
I owed $143,000 of student loans for my Duke University degree!
I was just 22 years old when I decided to prioritize my debt freedom journey so I could live a financially prosperous life. I made $25 per hour at my first job when I realized that my salary would leave me in debt for decades. I owed money to Sallie Mae, Perkins, Duke, and the US Department of Education. Let's not even begin to discuss the credit card debt I incurred due to living paycheck to paycheck.
Once I got intentional with my money and developed a plan for success, I saw a dramatic shift in my ability to pay down debt and get in position to build wealth. I was sending as much as $8,000 a month to payoff debt quickly! I still got to travel the world, build a business and enjoy my 20's all while paying off my debt.
After 7 years, I was completely debt free and had a multiple streams of income that still pay me to this day and now, I want to help you do the same.
Tai is an award winning, multiple six figure entrepreneur, a best-selling author, a graduate of the Goldman Sachs 10,000 Small Businesses program: Tory Burch cohort and has been featured on Fox News, CBS, the Wall Street journal, NBC and many more! Tai is a money mastery coach and is excited to help 1,000 people get in position for multigenerational wealth. Her coaching starts with helping people becoming debt free. Learn more at www.TaiAbrams.com
Frequently Asked Questions
Why should I buy this program when I could do it on my own for free?
You could definitely choose the free route but that might take you years. When you learn from someone who has been there and done that it cuts your time down significantly. This will allow you to tackle other goals much sooner. This course allows you to access all of the info you need in one spot, provides expert financial coaching and accountability to achieve your goals. I'm a millennial who took her finances seriously and am in my early 30's getting ready to retire in a few years. My shortcuts and mentorship can change your life.
When does From Debt to Freedom start and finish?
The best part about this debt free program is that It is a completely self-paced online course - you decide when you start and when you finish. I recommend that you spend no more than a week on each module so you can be on your way to debt freedom. But guess what, you have lifetime access so get excited! After enrolling, you have unlimited access to this course for as long as you like - across any and all devices you own.
Are you a financial advisor?
No, I'm not. I spent some time working as an investment banker than business analytics consultant. Now, I'm a multiple six-figure entrepreneur and best-selling author who happens to be madly in love with personal finance and building wealth. While I'm not a financial advisor, I learned how to tackle debt, save and invest better with an uncomplicated process. And it works.
I have over $100,000 in debt. Can I really pay it off?
You are learning from some who had $143,000 of student loan debt for an undergraduate degree, $100,000 of business debt, thousands of dollars in credit card debt and guess what that are all paid off and I have a positive net worth that increases every single day. You are learning for an expert debt annihilator with the tools to help you become debt free. Remember, anything in life can be obtained when you put discipline and faith into your goals. Do you really want to be debt free? Then you need to start believing in yourself. Because I believe in you. My simple four-module course is here to put that faith back into your life. You weren't put on this earth to just pay bills and survive. You were born to thrive, now let's get it!
How long will it take for me to become debt free?
Each person that I have worked with has a unique story. The debt balances are different, the salary is different and so are the interest rates. No two debt free timelines are the same. It's up to you to set your debt free goal date and stick to it. I m excited to help you craft a plan that works best for your story.
How do I know this will work for me?
When I was going through my debt free journey, I first started sending the bare minimum, which was about $750 a month. There was a point when I was unemployed and had to reduce my payments to interest-only payments.. After implementing the Taicoon Tools to Rapid Debt Reduction, I was paying as much as $8,000 a month toward my debt. I have been in every life situation you can imagine and still managed to pay off my debt. If I could do it, I am certain you can do it in even less time than I did. Check out my testimonials to see what my clients were able to accomplish. Believe me when I say, anything is possible.
What if I am unhappy with the course?
I am confident that From Debt to Freedom is going to help you get on track and in control of your money. But if for some reason you are unsatisfied with your purchase, you can contact us for a money-back guarantee. You must demonstrate that you completed 100% of the course to be granted this offer. This is your ticket to a new financial life and I am 100% sure you're going to learn how to maximize your money.
Hi Taicoon!
From Debt to Freedom was created as a debt free program to help you take back the financial reigns in your life. I want you to invest, indulge and build. I want you debt free, building wealth, purchasing investment properties, creating multiple streams of income and traveling. I want you to feel confident that you can tackle any money situation that comes your way and that debt does not have to stop you from launching the life of your dream. Once you're all done, I want to celebrate with you and continuously remind you that you were born to do GREAT things.
Transform your mind, change your behavior and become the Taicoon you were meant to be.